As
I established yesterday in Part 1
, I was going after "roaming like a local" for the two days I was alone in NYC.
We stayed in Chelsea.
I find this to be a convenient location for heading up to Midtown for the typical touristy spots as well as wandering around Chelsea & the Village. I referred to Cup of Jo's guide for where to stay among other recommendations for hanging in NYC.
I skipped sleeping in for the opportunity to ride in to work with my husband, so the day started early. As much as I miss sleep, as a mom of 3 little ones, few things are as invigorating for me as a crisp, NYC morning.
Murray's Bagels

was nearby and the line was nearly out the door so I figured it was the place for breakfast. I knew I had the right spot when I sat next to the Silvermans; mom, in her fur & daughters, dressed like the Olsen twins. The bagel was a great choice too. Whole wheat everything with scallion cream cheese. As a rule, they do not toast. The bagel is crispy on the outside & chewy on the inside. Perfect.
This kind of carbohydrate indulgence was a great start to a day of walking, walking, and more walking. I wasn't hungry again until dinner.
Besides meeting
some good friends for a bit in the afternoon,
the highlights of today were:
Chelsea Market

.
Former Nabisco factory between 9th & 10th Ave at 15th & 16th Street.
Here, you can shop at Anthropologie and other boutiques and grab a bite (or six) to eat. Most importantly: arrive hungry.
There's something for every craving. May I suggest:
bread at
Amy's
, build an antipasto of dreams at
Buon Italia
, and chocolate cookies at
Jacques Torres
. There's an abundance to choose from here; come hungry and bring a decisive companion.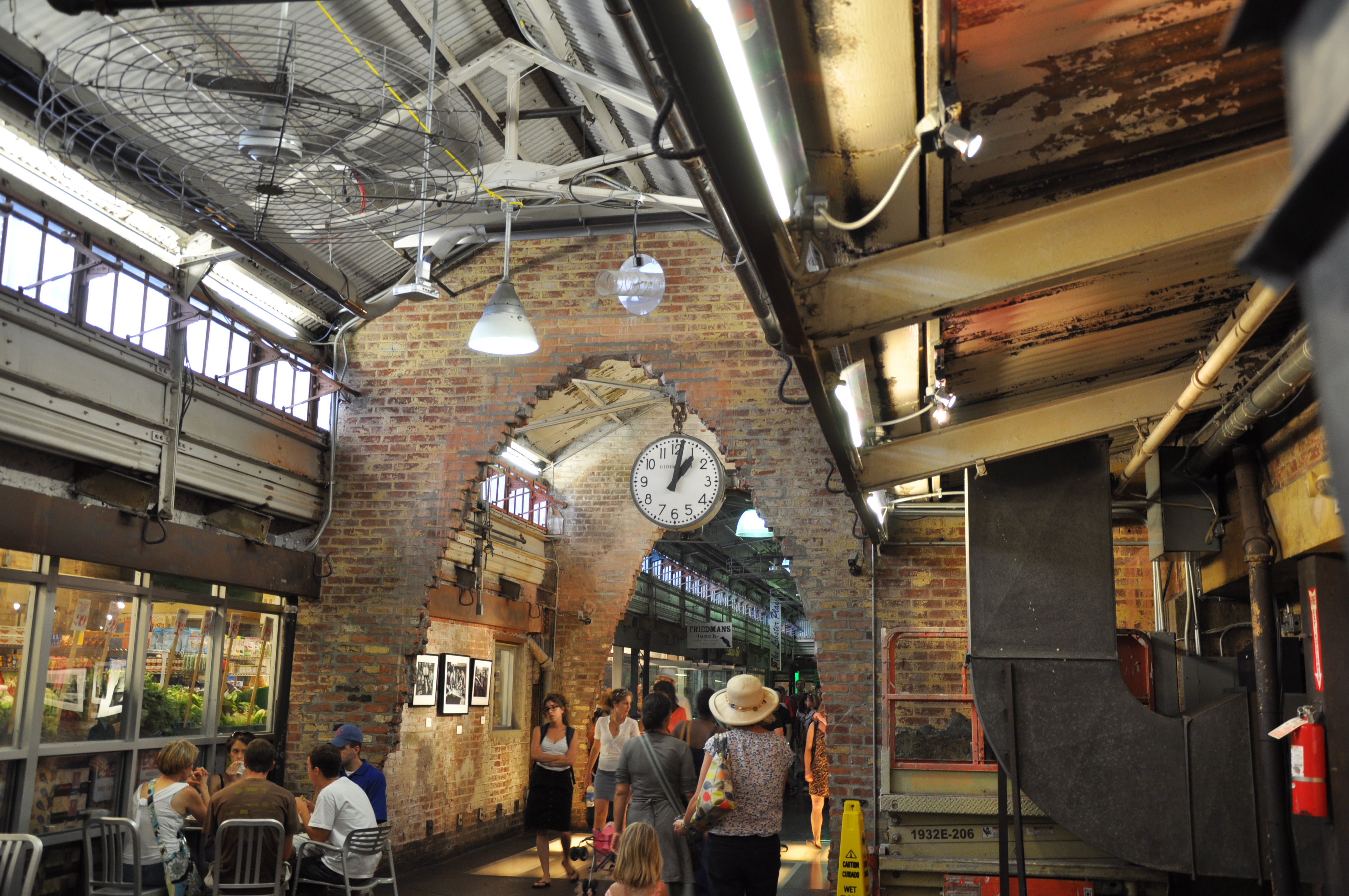 image
via
Head out on the 10th Ave side & go up to the
High Line
. A park built on an historic freight rail line on the west side that runs from Gansevoort St to W 30th between 10th & 11th Ave. The teak loungers are the perfect place to settle down with your picnic of goodies from
Chelsea Market
or to rest your tired feet and people watch.
image
via smith & ratliff
I went down to see the new World Trade Center construction and
the

9/11 memorial

.
Meandering in and out of

shops in Greenwich Village

and through

Washington Square

.
If you stand on 5th by this arch and look uptown you can see the Empire State building, which is especially majestic in red & green.
Shake Shack
has developed quite the cult-following for their burgers & creamy shakes.
Melt Shop
.Grilled cheese & tomato panini with tater tots. Yum!
Gray's Papaya
"the best darn hot dog in NYC
" has a popular recession special for 2 dogs & a drink $5.
My objective was
to eat grab & go meals
because I was alone for most all day and wanted the freedom to roam. Even when we did eat together it had to be relatively quick. Also: I knew I'd be eating salads for weeks once I got home, given it's the start of a new year, so I went for the greasy, meaty, carbohydrate selections.
Pin It