Just a couple nights in Rodanthe and I get it.
I get why every fifth car here in VA boasts an OBX decal.
I get why families have been flocking here for years and years.
I get why Nicholas Sparks' used it as the backdrop to his
novel
.
We will be back and will likely do everything just the same way.
We stayed at KOA Cape Hatteras
(Rodanthe, NC just south of the more commericalized Nags Head & Kitty Hawk).
LOCATION! LOCATION! LOCATION!
It is right on the beach. And just a walk across the street to the Sound.
We could have been entertained all weekend with the beach, but there are so many other family-friendly amenities on site we had to try-out.
My kids stayed until the
2 pools w/waterslides & hot tub
were emptied, and Carter looked up at me and asked "
why would everyone leave?"
The
Pirate ship playground & big bounce-y pillow
were a hit too.

KOA Camp Hatteras OBX
We rented a Cabin, equipped with bunk beds & queen size bed, A/C, galley kitchen, cable, & gas grill. *The campground was remodeled after hurricane destruction, more on the accommodations & newly remodeled campground
here
.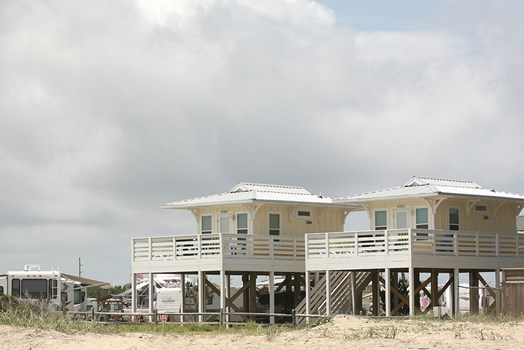 KOA Camp Hatteras OBX
I could end every day of life sitting by a campfire.
Couldn't you?
Oh the smell, the smores, the spider dogs...
When we didn't utilize the grill at our cabin, we headed to some great spots for food nearby.
(Not the camping type: The
Nights in Rodanthe
house is available for
rent
)
My favorite eats:
Atlantic Coast Cafe
Just across the street from the campground is this low key eatery. Perfect for breakfast sandwiches, smoothies & a decent cup of coffee. $
Good Winds Seafood & Wine Bar
Delicious Seafood. We tried nearly everything
Yelp
reviewers recommended & agreed. Crab bisque, Caesar salad, Asian Glazed Shrimp, Fishermans' Platter w/a sampling of Scallops, Mahi, Lump Crab balls & Shrimp. So, so good.
Everything
was delicious. Even the hush puppies & fries. We ate outside on the deck, watching the sunset on the Sound. $$$
This was our first visit & certainly won't be our last.
Dan came down the wooden ramp after checking out with a big smile on his face holding up an OBX magnet that he promptly put on our rear window!
Glad he shares my sentiments.
PS: Not one photo was taken all weekend.
Pin It